Depressed man attempts suicide on flight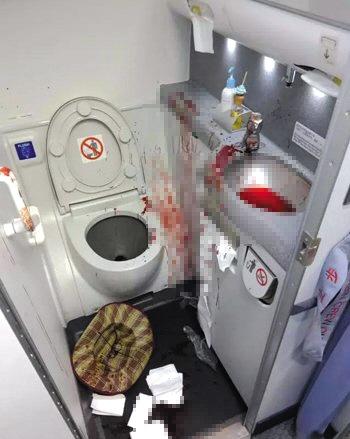 This photo shows the bloody lavatory on a Xiamen Airlines flight. (Photo/Beijing News)
(ECNS) -- A passenger on a Xiamen Airlines flight attempted to commit suicide in the plane's lavatory on Sunday night, the Beijing News reported on Tuesday.
The airline said that it would not prosecute the man.
Crew members on flight MF8362 from Haikou in Hainan Province to Xiamen in Fujian Province reportedly heard loud noises coming from the lavatory. That sound was a male passenger hitting his head repeatedly against the washbasin.
The crew cared for the injured man before handing him off to medical staff after the plane landed.
According to Xiamen Airlines, the passenger, who was flying with his family, was suffering from depression.
The airline denied a report that the passenger tried to commit suicide with plastic cutlery.
"There was no plastic cutlery on flight MF8362, because no meal was served after the plane took off," the company said in a statement.
"Even though the incident happened in the lavatory, the passenger's behavior caused inconvenience to other passengers on the plane," said Zhang Qihuai, who works for the Air and Space Law Research Center at the China University of Political Science and Law.
Security workers have a responsibility to monitor passenger behavior, Zhang said.
"People who are going through drug withdrawal, are out of control, or are acting odd under the influence of drugs should be banned from boarding," he added.
source:
ECNS